View all posts
Teaching in a New World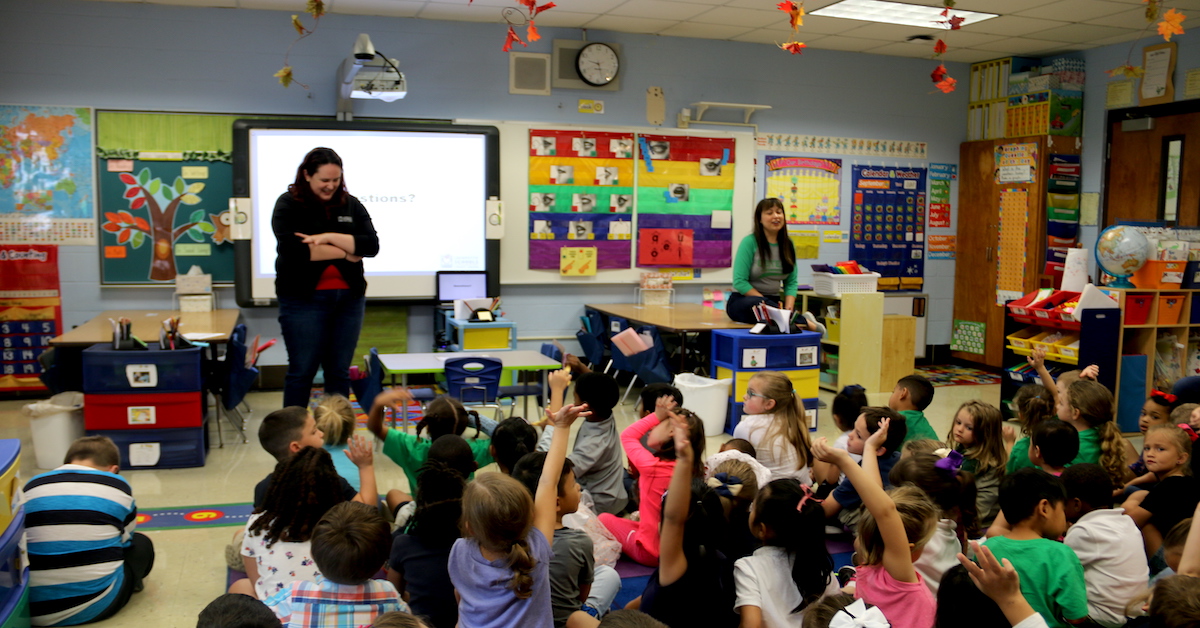 We've always known that teaching is a work of heart. With these new set of circumstances, the phrase rings especially true as school personnel and students cautiously return to school after an extended leave of absence. It's been said that credit unions are meant for the times like these. Because of our financial cooperative structure, operating as a not-for-profit local institution, investing directly into the communities we serve, we are here for our members and school systems now more than ever. There are so many new changes this year, and with new policies coming out weekly, it can be hard to keep track of it all. We've pulled together a helpful list to keep in mind and how the credit union can be a resource (now more than ever):
1. Scrubs: Your New Uniform
Teachers rejoice! The best part of having a uniform is no guesswork in the morning or having to scrounge for that dress you haven't worn in a month. Due to the medical necessity of frequent cleaning and sanitation, Lafayette Parish is now letting their teachers wear scrubs. Each teacher (including if you teach in other parishes) will need to consult with their particular school administration to see if they are allowing this new uniform. The memo explaining the new option has asked that scrubs be well-kept and professional.
2. Scanning Hack
Since teachers are gathering as many resources together as possible, other previously guaranteed supplies may be tied up. With all the new expectations of teaching school and providing virtual instruction, a quick way to avoid a trip to the office is scanning documents via your iPhone. Didn't know you could do this? We didn't either! It's a rather simple process.
Here's how it works:
Open your "Notes" app and create a new note.
Click the camera icon, and select scan documents.
Hold your phone over your document until the whole page/document is highlighted in yellow and click save.
You can then e-mail the scanned page if you would like.
3. Masking Up and Staying Apart
These words certainly aren't new, and are sure to have been drilled into your psyche after completing all your back to school training. We can all imagine the struggle it may be to tell students to keep their distance from their best friends or remind them to put on their mask. Don't miss the opportunity to throw some humor or creativity under these new circumstances. The students, just like adults, will feel the strain of new rules and could need some positive interactions. If you teach younger kids, bring a funny mask or hat one day to mix it up. If you're with older students, maybe take some time every so often to ask how they are and what they're struggling with. You may be the only person who is asking them and willing to listen.

Another way to keep the class interesting (if your curriculum allows) is to research to see if you can have some guest speakers present virtually. The credit union is more than willing to virtually meet with your class and teach Financial Literacy. Contact our Member Relations officer at [email protected] to put your class or classes on the schedule.


3. Some Things Never Change – Your Resource in the Credit Union
You may have been as lucky as some parents who were quarantined for weeks on end with small children, just in time for Disney Plus to release Frozen 2, for said children to watch constantly on repeat. Their hit song from the movie, Some Things Never Change, especially comes to mind in this moment. That is, the credit union is a partner and resource to you just as we have always been. As a financial not-for-profit cooperative, our local operations place us in a unique position to invest directly in our school system.
Below are just a few ways we are striving to help you and your colleagues during this time:
The first 50 principals who e-mail our Member Relations Officer will receive a free gallon size of hand sanitizer for their school.
Teachers who attended a Back to School meeting with Meritus Credit Union in-person or virtually will receive a free personal size bottle of hand sanitizer.
School system employees who would like personal hand sanitizer for all employees in their school can contact our Member Relations Officer. We will distribute on a first come, first serve basis. Details here: merituscu.net/backtoschool
Facebook Giveaway: we will be randomly awarding 30 lucky schools with a sanitation basket. Each basket will include a gallon of hand sanitizer, 3 alcohol wipe cannisters and 100 disposable masks. A portion of the baskets will be reserved specifically for low-income schools. To enter, visit our Facebook at facebook.com/merituscu between Wednesday, September 2 - Friday, September 4 and tag your school along with your favorite co-worker in the comment section of the Sanitation Swag Bundle post. Read official rules here.


Sources:
Lafayette Parish School System: Classroom teachers can wear scrubs this fall