View all posts
How to Plan Your Dream Wedding on a Budget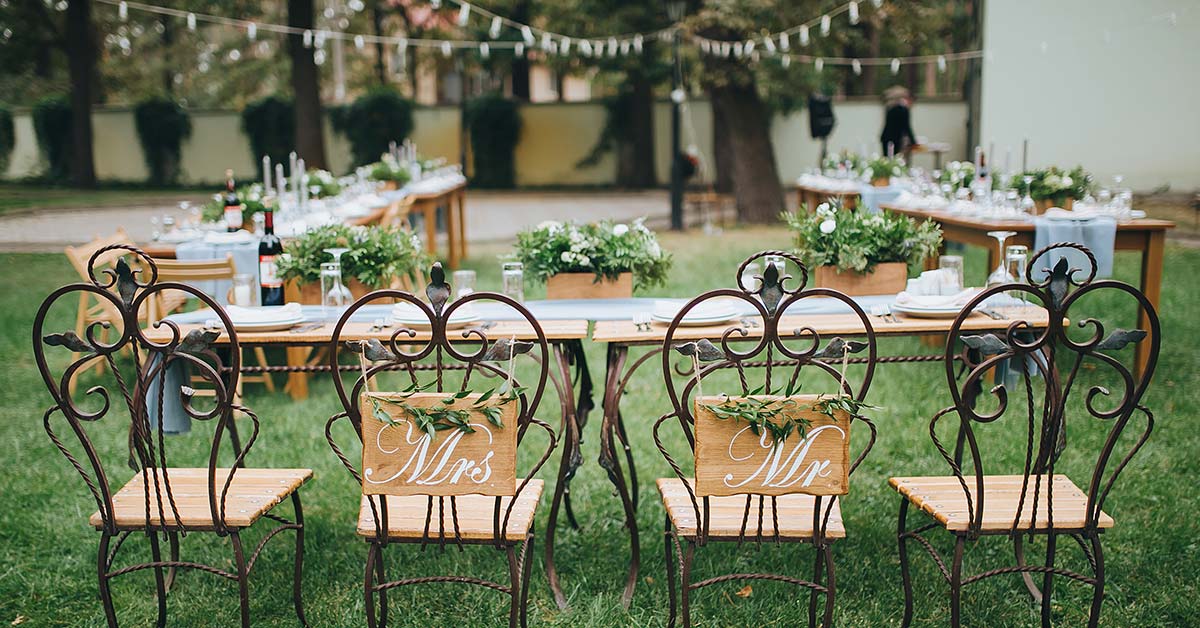 With engagement season falling between Thanksgiving and Valentine's Day, you might be in the midst of planning your special day! There are a lot of things to consider; wedding venue, decorative elements, photography, music, wedding guests, etc. Below we put together some recommendations on how you can cut costs while still having the wedding you desire.
1. Prioritize
The first step is to decide what areas you and your fiancé find most important for your wedding day and what the non-negotiables are. This will allow you to prioritize the essentials and be okay with choosing cheaper options in other areas. For example, if the venue, photography and honeymoon are the most important items to you, find less expensive options in flower and food options. You could also save money by choosing a DJ instead of a live band.
2. Create a Budget
Come up with the total amount that will be spent on the wedding and then allocate specific line items for each category. Rachel Cruz provides an example on how to breakdown your budget (keep in mind that it can be adjusted according to your priorities):
"Reception: 55%
Ceremony: 12%
Photography: 10%
Wedding Planner: 10%
Dress and Tux: 8%
Miscellaneous/Cushion: 5%"
After breaking down the percentages from your total budget, setup your checklist of your tasks in each category and a place to track your spending. There are different websites and apps that can help you calculate and keep track of your budget such as NerdWallet and WeddingWire.
3. Reduce the Guest List
The wedding industry has changed a bit due to COVID restrictions, but the silver lining is that you may save money with having less guests (although you might want to consider adding masks to your budget). Financial advisors already recommend eliminating 20% of the guest list, and then an additional 20% from the new total to save money on your overall wedding.
4. DIY/Phone a Friend or Family Member
Do it yourself where you can. For invitations, there are plenty of wedding invitation templates out there where you can create the invitation and possibly print them yourself. Wedding planners are a must for some people, but they can cost between $2,000 - $5,000 for their services. Brides can often take care of their own planning. There are many tools available to help keep you organized, such as The Knot and Brides, which have great resource recommendations to help with your to-do list. If you do need some assistance, you can hire a day of wedding coordinator, which would be much more affordable than hiring someone for the entirety of your planning.
Friends and family may offer assistance, but you can also seek out your network for specific needs. Are some of your family members good cooks? If so, you could have them bring in dishes for a potluck style. You can gather people to help with flower arrangements and other decorations. You might also know photographers, graphic designers or DJs. Keep in mind that they might not be able to offer their services for free, but you could possibly get a decent discount.
5. Research Vendors
For areas where you need wedding vendors, ask around for recommendations and check their reviews. Meet with a few vendors from each category you are seeking them for and get their estimates. With more options, you'll be able to choose the better deal.
More Wedding Details to Consider
Wedding Registry
If you are an older couple and already have all of the household items you could ever need, let your friends and family chip in for your honeymoon. You might want to provide a small gift registry list incase Granny or other guests want to see you open an actual gift, but many are happy to contribute to a honeymoon fund instead. This option can help you save a good amount of money on your honeymoon expenses.
Wedding Party Gifts
A gift for your wedding party is a nice gesture since bridesmaids and groomsmen don't just show up on the day of the wedding. Their duties often include planning parties, attending showers and purchasing gifts. Making room in your budget for them will show appreciation for their extra commitment to your special day. If you don't have enough room in your budget for this line item however, The Simple Dollar recommends writing a personal thank you note instead.
Destination Wedding
While this option seems more costly at first, keep in mind that your guest list will typically be much smaller, and thus, less expensive. A destination wedding can be very romantic and memorable and in most cases, you'll already be at your honeymoon destination when the wedding is done!
Holiday or Weekday Wedding
One of our members suggests considering a holiday wedding to cut on extra costs. "Christmas time was really special to us since we first met in the holiday season and we were engaged right before Christmas. Since I love this holiday, we knew it had to be a holiday wedding." And since their wedding was during the Christmas season, the church they held their ceremony in was already decorated with flowers, which helped them save on decoration costs. "Another trick is to maybe consider a weekday wedding. We chose to do New Year's Eve, which happened to fall on a weekday. This meant our venue was considerably less to rent and we had a much lower food and beverage minimum to meet."
Key takeaways: set priorities, create a budget as soon as you start planning (or before), get your checklist setup and figure out the areas where you can do it yourself or get help from others. Don't forget to have fun along the way!
Sources:
How to Plan a Wedding on a Budget
20 Ideas for a Frugal (Not Cheap) Wedding on a Budget
All the Best Wedding Planning Tools for a Stress-free Process
The 20 Best Wedding Planning Websites and Apps for Every Kind of Couple